While many factors are beyond the control of a manufacturing company, one thing can be at least partially controlled: the customer experience. Analyzing and improving you customer experience is the key to maintaining and enhancing your competitive edge in the manufacturing industry today. Offering the best experience possible to your customers can make them more likely to stick with your company.
Since 1990, the export of manufactured goods from the U.S. has more than quadrupled, productivity has increased, and employment opportunities have grown. But with this growth and opportunity has also come with a rise in competition. This competition has not only impacted large companies such as Caterpillar, Blue Bird and Steel Dynamics, but smaller ones as well.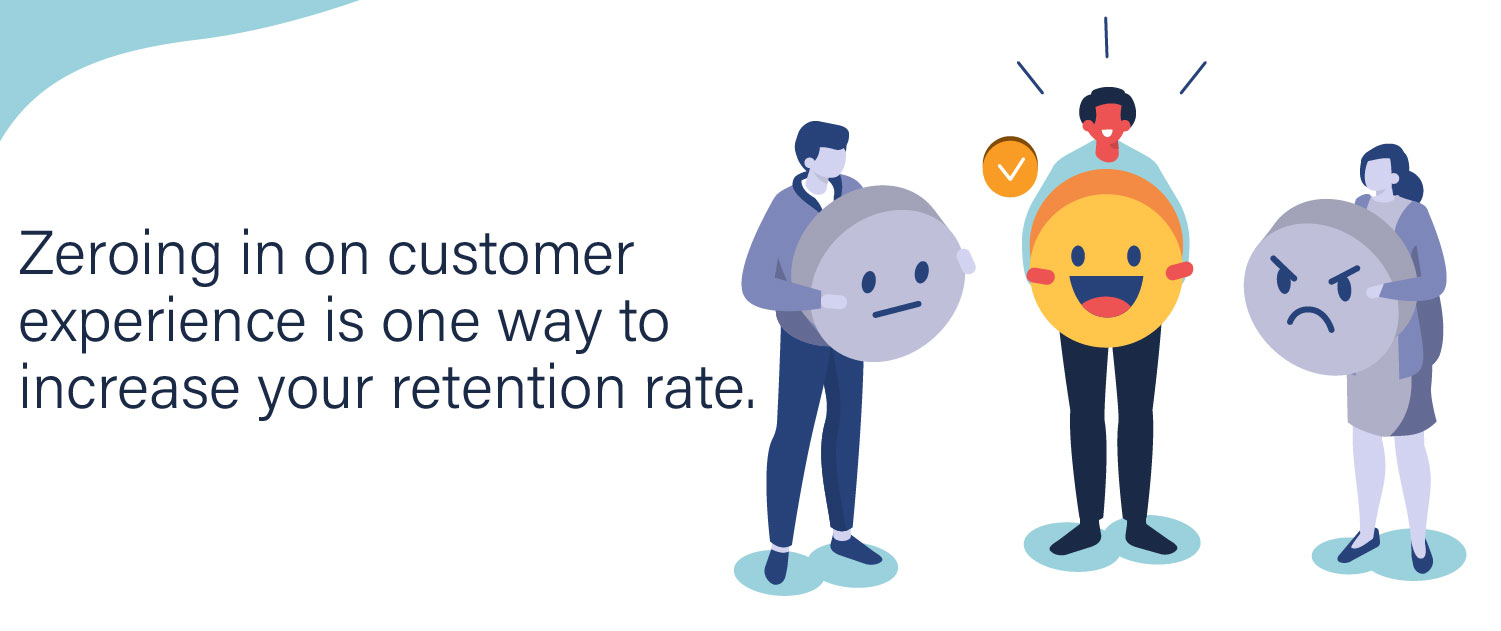 You want to keep your customers for the simple reason that doing so can help to boost your profits — in some cases as much as 95%. Loyal customers make growing your business much easier. And we all know that it is far cheaper to retain existing customers than always searching for new ones.
Why Customer Experience Matters now in the Manufacturing Industry
Zeroing in on customer experience is one way to increase your retention rate. When you connect with customers after a transaction, you get to know exactly what they liked about the interaction, what they didn't like about it and how they are feeling about continuing the relationship with your company. If a customer is satisfied with your products, delivery speed and other aspects of the relationship, you can capitalize on that satisfaction. If they're not happy, collecting their feedback allows you to respond to concerns and make a plan to reconnect and mend your relationship.
Retaining customers is one of the biggest reasons why customer experience matters for manufacturers, but it's not the only reason. Connecting with your customers after a transaction gives you an opportunity to make another sale, particularly if the customer was happy with the product they received and was satisfied with the overall transaction.
What Does The Daniel Group Have to Offer?
At this point, you might be ready to jump in and start a customer experience program, or you might be interested in presenting the idea to other decision-makers at your company during the next meeting. Perhaps you've tried to collect feedback in the past, but it didn't quite work out the way you wanted. Customers might not have responded to your queries, or maybe they responded too slowly. They may have found the questions you asked confusing or irrelevant.
Whether you're launching a new customer experience program or need help reviving a stagnant one, you want to turn to a company that has years of experience and expertise in the field. The Daniel Group only works with B2B companies and has three decades of experience crafting customer feedback and survey programs. We're ready to help your company get started with customer experience or expand an existing program.
If you're looking for a partner that can help your company make sense of its survey data and figure out what to do next, then you want to partner with The Daniel Group.
We're Knowledgeable About the Customer Experience in the Manufacturing Industry Market
The Daniel Group serves approximately 75% of all Caterpillar dealers in North America as well as AGCO and other OEMs. Our focus is exclusively on business-to-business clients. Over the years, we have become skilled at interacting with the types of customers your business and your dealers serve. Our focus is Customer Experience for the Manufacturing Industry. By working only with B2B clients and focusing specifically on manufacturing and heavy industrial companies and their distributors, we've been able to develop and operate effective customer feedback solutions for our partners. Some of the companies on our client list include:

We Conduct High-Quality Feedback
There's no "one-size-fits-all" when it comes to effective manufacturing customer surveys.
Behind every survey conducted on behalf of your business by The Daniel Group is an educated and highly-trained Client Success Manager. For our phone surveys, we have a team of more than 60 analysts who perform phone interviews and analyze the data they collect during surveys.
We can design a feedback approach that meets your needs and those of your customers. Whether it is a phone, email, or hybrid feedback collection approach, we can design a program that works. We also know that providing exceptional customer experiences means having engaged employees. We also offer employee surveys, giving companies insight into what their team members are thinking and feeling. Thus, providing opportunities to improve employee engagement, and in turn, create a better customer experience.
Our goal is to help you use what you gather from customer surveys to design a better customer experience for your clients. A combination of industry knowledge, an experienced team, actionable insights, and a focus on best practices allow us to help you.
We Provide Actionable Insights
Conducting surveys and performing interviews are only the beginning steps to take along the customer experience journey. The next phase is to figure out what to do with the information you've gathered. When a customer rates their satisfaction level at a 6 or 7, what does that 6 or 7 mean? Our analysts ask questions in follow up that get the customer to dig deeper and ultimately provide you with actionable insight.
During each survey, our analysts categorize customers' comments, which helps you quickly see where you're doing well and where there is potentially room for improvement. Some of the categories our team are likely to use include:
Ease of contact
Knowledge and professionalism
Responsiveness of your company
If you know exactly where there's room for growth and improvement, you can focus on those areas. Making changes to your operations based on what customers say helps you prove to them that you value the relationship. Over time, it will help to increase their loyalty to you and potentially make them more likely to refer business associates and colleagues to your company.
We Partner With You
In recent years, it's become more and more common for manufacturers to form partnerships to help them reach specific business goals, such as improving customer satisfaction and experience. Research from Deloitte has shown that companies that form such partnerships are able to create value for their customers twice as quickly as companies that don't seek out partnerships.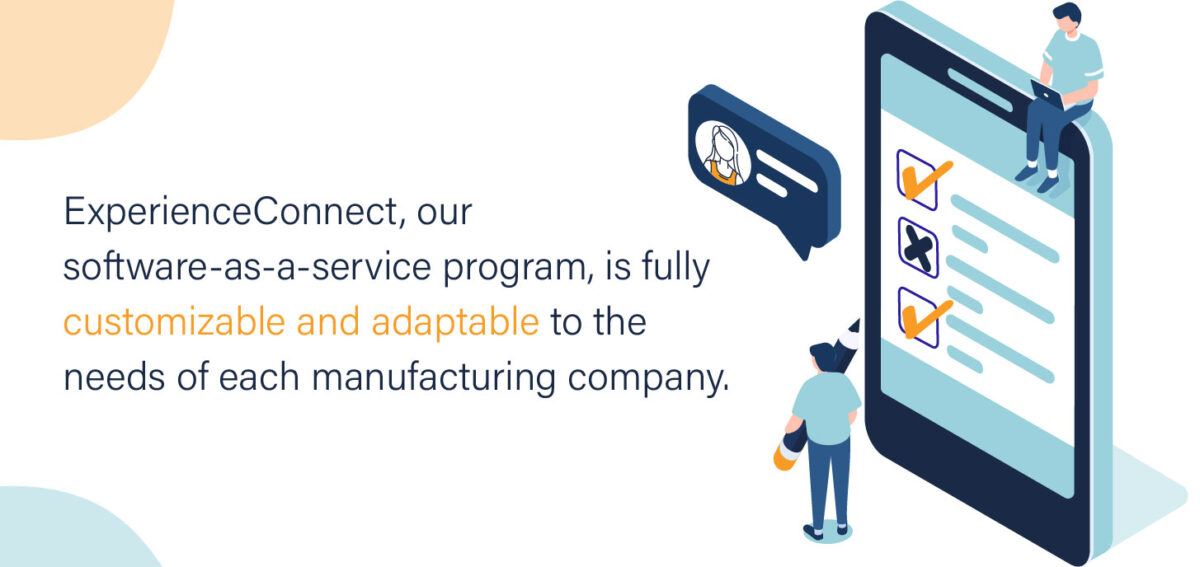 The Daniel Group is committed to being a proactive and responsive partner. We listen to your input and needs and use it to develop a customer experience program that works for your company. ExperienceConnect, our software-as-a-service program, is fully customizable and adaptable to the needs of each manufacturing company.
Whether you're hoping to connect with your customers over the phone, email or the web, we'll work with you to create a custom feedback program that's useful and effective.
Is Now the Right Time for ExperienceConnect?
Is the time right for your company to try ExperienceConnect? There are a few signs that beginning to use a customer experience management system is the right option for your business. If you haven't yet started to touch base with your customers about their overall satisfaction or experience, you have no way of knowing what they are really thinking about your company. If you've noticed a drop-off in orders or that clients aren't coming back for repeat purchases, you want to find out why.
Many manufacturers work with dealers or distributors and have no means of measuring how those dealers are doing on customer service. How your dealers treat consumers reflects on you, so you want to make sure they're doing a good job.

ExperienceConnect provides the jumping-off point for a customer feedback program. It can integrate with your current CRM and can be fully customized based on your company's preferences. You can use it to gather customer feedback at first, then add employee feedback and lost customer data as your customer experience program grows. You can also use the platform with email or phone surveys, or a customized combination of the two.
The platform does more than simply collect your survey data. It also lets you analyze it, using the key performance indicators that matter most to your company. Over time, you can track improvement or see if there are areas where your business continues to struggle.

How Do You Get Started?
Companies across the manufacturing equipment industry, from AGCO to Wiese USA, have partnered with The Daniel Group to gain a better understanding of what their customers are thinking and feeling every step of the way.
Learn more about how our market expertise, professionalism, and responsiveness can help you put a customer experience program in place that helps your business grow and thrive.
Watch a live demo of the program to see how it functions and how your manufacturing company can use it.
If you're ready to jump in and get started with ExperienceConnect, contact us today.
Complete the form below to begin a conversation with us.
Trusted by B2B businesses
We work with manufacturers, service companies and value-added resellers to understand the customer's view at every part of the chain.