Customer Experience for the Transportation and Logistics Industry
Do you know what your customers really think about your company? You won't know if you don't ask. Customer feedback for logistics and transportation companies can help you see where it excels, where there is room for growth and what needs to be done to continue the business relationship.
Gauging customer satisfaction and measuring customer experience in a B2B environment is more challenging than in B2C . Your business transactions are much more complex. You have also invested more time and energy in landing your customers as compared to a B2C company.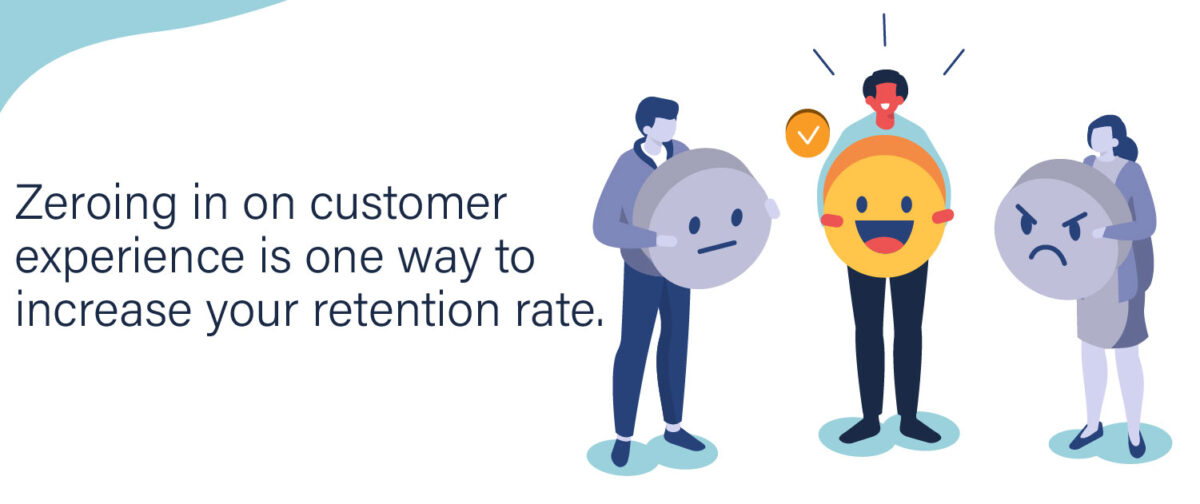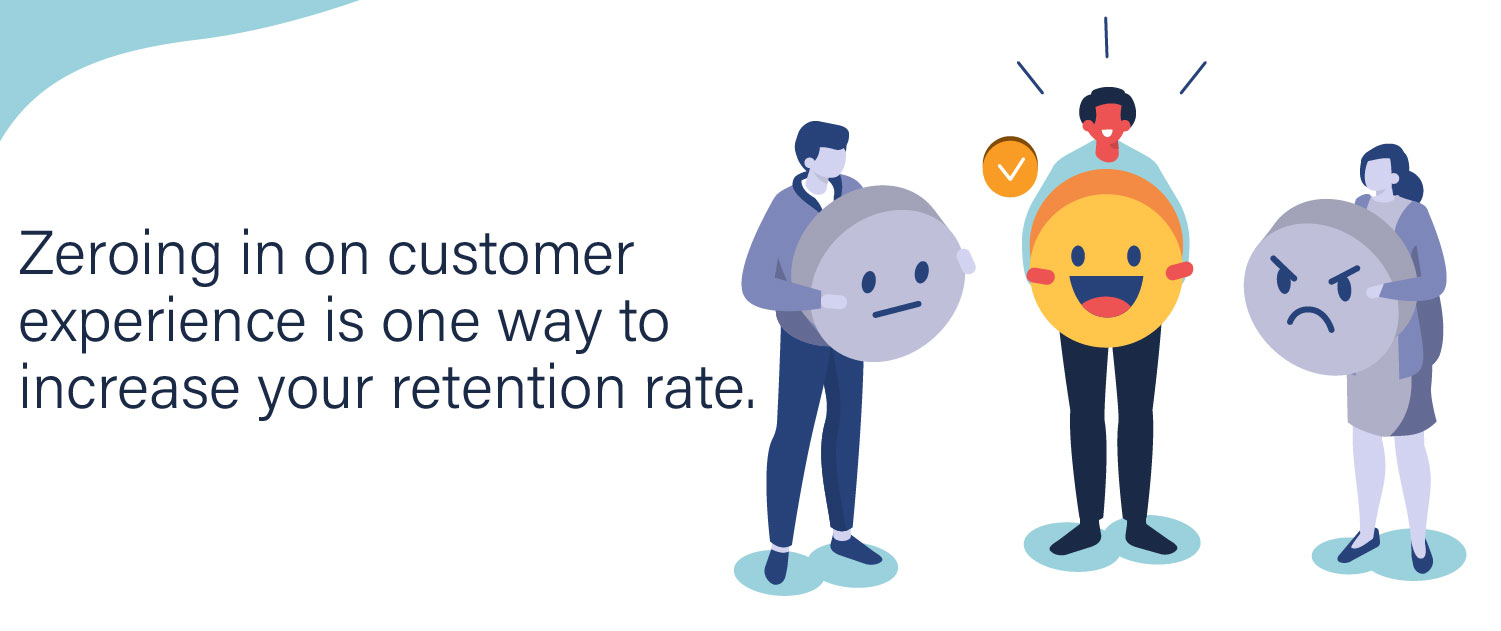 Partnering with The Daniel Group allows you to collect the information you need to grow your company, continue to offer a high-quality experience to your clients, and find ways to improve your services and approach so you can improve the overall customer experience.
Why Customer Experience Matters Now to the Transportation and Logistics Industry
Why should you check in with your customers and gather their feedback? The logistics industry is competitive and it's only going to become more competitive. Increased manufacturing demand also makes the logistics and transportation industry more competitive.
Collecting feedback from your existing customers will help you know where you need to make improvements. Gauging customer experience and satisfaction levels helps you see where you can make adjustments so you can better retain existing customers and increase sales with those customers. You can move your business relationship from vendor to partner. Taking the time to check-in with your clients and get their feedback can also make them more likely to refer your company.
What Does The Daniel Group Have to Offer?
You have options when it comes to collecting feedback from your clients and gauging the overall level of customer satisfaction. You can put together your own surveys, using a web-based platform, or you can contact your customers on your own by phone to ask for their thoughts and opinions. But neither option is ideal.
The Daniel Group is dedicated to collecting B2B customer experience feedback. If you want to find out what your business customers are really thinking and want to transform that feedback into actionable steps, we can help. Take a look at our experience and the services we can offer your company.

Knowledge of the Transportation and Logistics Market
The Daniel Group has a deep and thorough understanding of the logistics and transportation market as well as the needs and expectations of B2B customers. We serve about three-quarters of all Caterpillar dealers in North America and work with Blue Bird Buses, AGCO, Thomas Built Buses, and others. We've developed an understanding of what people in agriculture, construction, transportation, logistics, and industrial equipment markets are looking for. When partnering with a logistics, transportation or bus company, we can use our knowledge of the demands of your company's clients to help develop insightful survey questions.
Since The Daniel Group focuses exclusively on industrial and business-to-business clients, we are skilled at interacting with the types of customers you serve. For more than a decade, we've been operating effective customer feedback solutions.
High-Quality Customer Feedback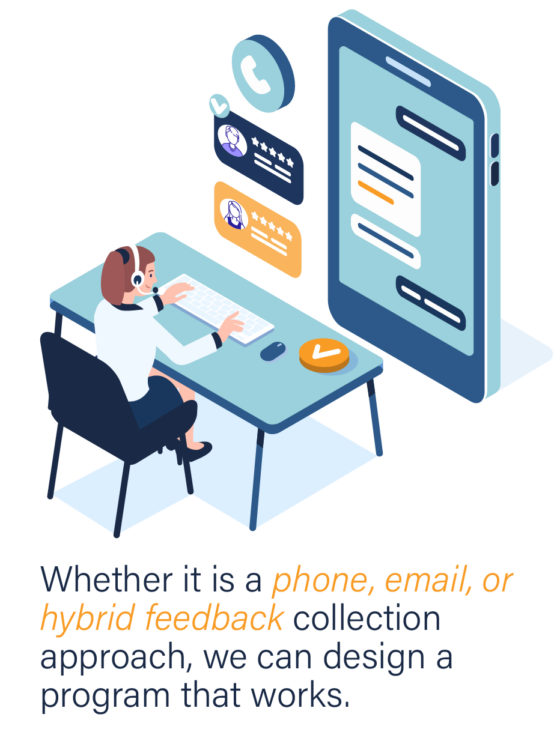 B2B customer experience surveys typically need a more in-depth and personal touch. Phone interviews are generally the preferred method for collecting B2B customer feedback, at least for the initial contact. Your business might be able to send follow up questions over email after the initial information is gathered by phone.
Conducting customer experience interviews involves a mixture of art and science. It takes skilled interviewers to ask questions of customers in a way that encourages them to answer truthfully and honestly. Some skill is also needed to ask the right questions and phrase them in a way that is easy to understand.
We train and support our analysts by providing them with the skills they need to guide an interview successfully, keeping the customer focused on the specific transaction and their experience during it. At the same time, our analysts note references to previous transactions a customer might have had.

Actionable Insights
Numbers can be helpful when it comes to gathering feedback from your clients, but numbers and ratings only tell part of the story. The Daniel Group collects loyalty ratings from the customers we survey, asking them to rate their satisfaction on a scale of 1 to 10.
We then encourage the clients to dig deeper, to provide you with more insights on their rating. After all, a "7" from one customer can be very different from a "7" from another. Some customers are tougher graders or have higher expectations while others might be more lenient and more likely to give high ratings, such as 9s and 10s. Our interviewers will ask the interviewees to describe their experience. Specifically, they'll ask for information on what the customer liked about the transactions or what they thought went well. The analysts will also ask for details on what could have been improved about the transaction or about areas where the customer sees room for growth.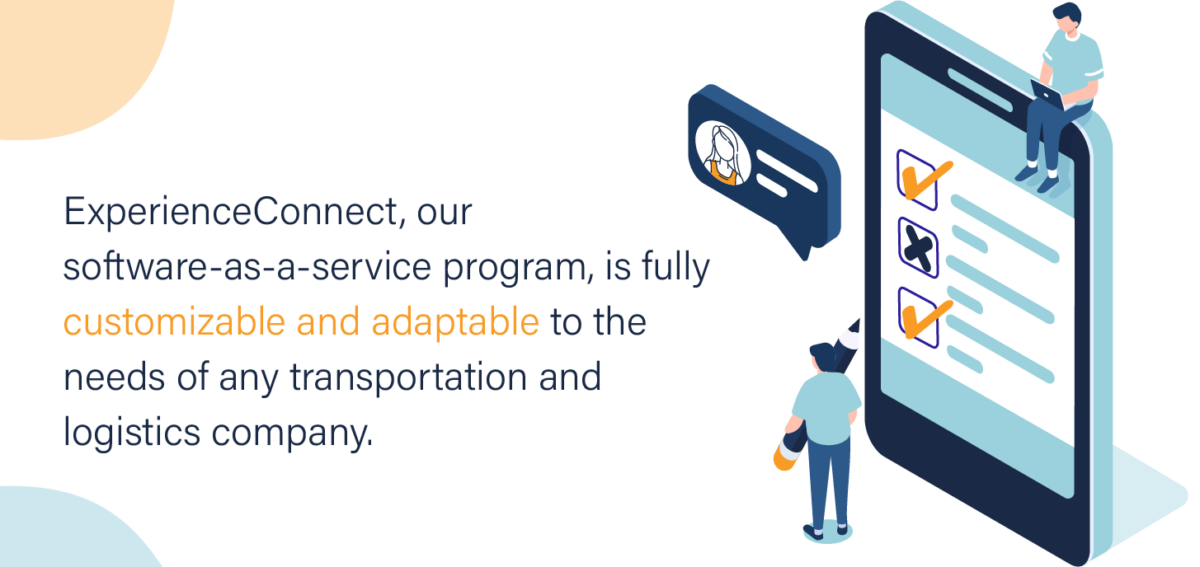 After gathering the insight and information from your customers, our analysts will record their comments and tag them with specific categories, such as knowledge, professionalism, the responsiveness of your company and ease-of-contact. The Daniel Group will use the categories and comments to deliver actionable insights to you.
Knowing where there is room for improvement and what, specifically, you can do to improve will help you provide better customer experience and, in time, develop increased customer loyalty.
Partnership and Best Practices
What is the best way to go about collecting feedback from your customers? Behind The Daniel Group is a team of customer experience experts and program support staff who continually improve the customer survey program.

If your logistics or transportation company has struggled in the past to collect valuable information from customers or if you've had difficulty getting clients on board with feedback surveys, we can implement some of our industry-test best practices to encourage response and increase the quality of the information you collect.
How Do You Know If It Is Time to Consider ExperienceConnect?
ExperienceConnect is The Daniel Group's customer experience management platform. It's a secure, cloud-based robust feedback-as-a-service platform that provides a complete view of your organization, particularly your progress with customer experience. The platform incorporates two of The Daniel Group's primary services: customer feedback and employee feedback. There are multiple benefits to using ExperienceConnect that can help you determine if the software platform is the right choice for your transportation, logistics or bus company. Before looking at the specifics of the software program, let's take a look at a few signs that it might be time to consider implementing a customer feedback program in the first place.
Using ExperienceConnect can illuminate your customer's thoughts and feelings to you. If you're not sure how your clients view a particular service or whether they wish your company was doing something better, the platform can provide for you.
Often, logistics and transportation companies begin using ExperienceConnect and start working with The Daniel Group after trying to implement their own in-house feedback program. If you aren't getting results from your current feedback and survey program, it can be helpful to try something new.
Features and benefits of ExperienceConnect include:
It's customizable: ExperienceConnect is meant to be tailored to your company's specific needs and to your current budget. You can start with one level of service and scale up when and if needed. You can also use your brand's logo with the platform. You have the option of adjusting survey type and frequency as needed, too.
It integrates with your CRM: ExperienceConnect can connect with pretty much any customer relationship management program, including SalesForce, ACT, SAP and Microsoft Dynamics.
It provides robust reporting: The platform lets you download your data to Excel and allows you to track KPIs or improvements based on location.
It provides real-time access to survey data: Using ExperienceConnect, you can listen to the surveys our analysts conducted with your customers and read their feedback. You also have the chance to respond directly to concerns and issues brought up in the surveys.
It includes relationship surveys: Although you might initially want to collect information and feedback after a single transaction, with ExperienceConnect, you have the option of taking a "big picture approach" to get a sense of customers' impressions over multiple interactions. Relationship surveys help you evaluate the strength of your company's relationships with individual clients, allowing you to do damage control or work on mending a fractured relationship.
Finally, if you're looking for a way to set your company apart from others in the logistics and transportation industry, using a dedicated customer experience platform can help. You can track your results and see improvement in real-time so you can stay on target when it comes to reaching your customer satisfaction and customer experience goals.

Start Working With The Daniel Group Today
Companies across the industrial equipment industry have partnered with The Daniel Group to gain a better understanding of what their customers are thinking and feeling every step of the way.
Learn more about how our market expertise, professionalism, and responsiveness can help you put a customer experience program in place that helps your business grow and thrive.
If you're ready to implement a customer feedback program or haven't had the results you expected from your existing program, contact us today.
Let us help you measure, manage, and improve your customer experience!
Complete the form below to begin a conversation with us.
Trusted by B2B businesses
We work with manufacturers, service companies and value-added resellers to understand the customer's view at every part of the chain.