Want to Succeed in Customer Feedback?
At The Daniel Group, you can access our extensive customer feedback data from our 30+ years of surveys and market research across multiple B2B industries. You can learn from our insights to grow your Customer Experience program. Get our newsletter, Success Strategies, for our Customer Feedback insights in your inbox!
September 2020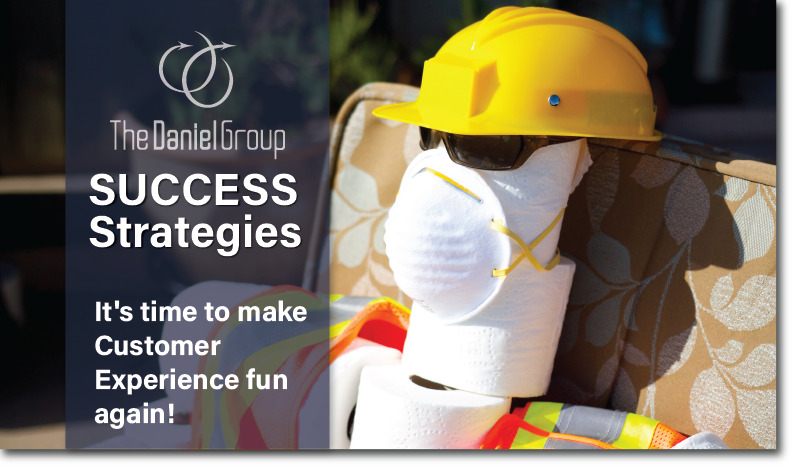 It's time to make Customer Experience fun again! In this challenging year, we've all learned we need to have fun just to stay sane. Your Customer Experience program needs a little humor to thrive too. In my recent blog, Using Humor to Create Unexpected Customer Experience, I share how a Charlotte hardware chain uses humor to engage its customers. I also provide some guidelines for using humor in your Customer Experience program.
Why is humor so important to your customers? I found a blog by Joseph A. Michelli, Ph.D., "No jokes! The Role of Humor in Customer Experience," that clearly answers this question: Continue reading
August 2020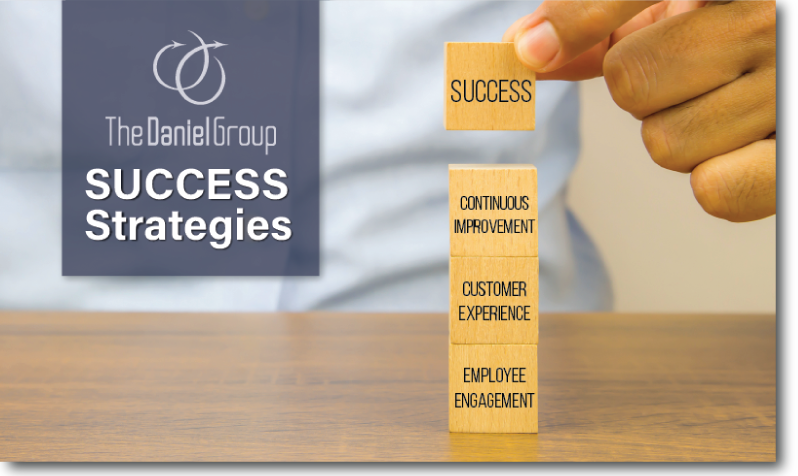 Time to integrate your CX, CI, and Employee Engagement Programs
How are your CI (Continuous Improvement), Customer Experience (CX), and Employee Engagement (EE) programs stacking up? We often forget that these three programs must be integrated for success.
In my recent blog, Transform Continuous Improvement for Experiences Customers Love; I share a success story of one of our clients and how they integrate CX, CI, and EE. One of the takeaways of this story is that employee engagement makes all the difference. Continue reading
July 2020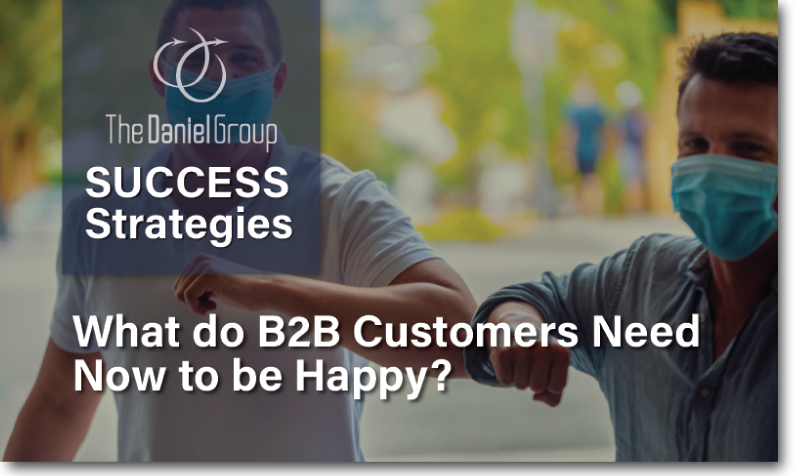 What do B2B Customers Need Now to be Happy?
B2B Customers have a very different set of needs to be happy with your company and to remain loyal. Compared to B2C, the B2B purchase is not a one-time, one-on-one interaction. It is more of an ongoing relationship than periodic transactions. The B2B provider is often an extension of the customers' business operations.
In my recent blog, "B2B Customers need Special Attention to be Happy." Learn about the key considerations for improving the experience for your B2B customers and keeping them loyal and happy. Continue reading
June 2020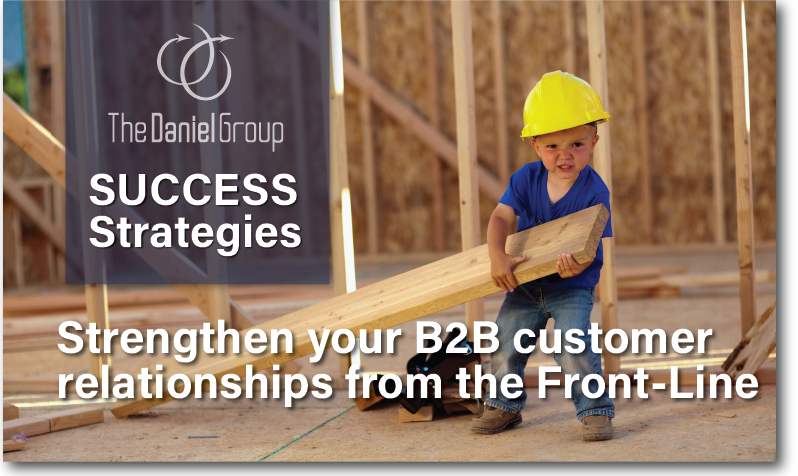 Strengthen your B2B Customer Relationships from the Front-Line
You can strengthen your B2B customer relationships from the front-line. Customer loyalty is the key to maintaining your company's profitability. Here are some practical steps your front line managers can take to keep and build your customer relationships.
First, always follow up on your survey feedback, especially those customers "in the middle" (gave you a 7 or 8). In my recent blog, "How should you follow up with Passive customers?" you learn how one of our clients handled a customer "in the middle," resulting in a stronger business relationship. He was able to move the relationship from 'vendor' to 'business partner' status. Continue reading
May 2020
Keeping your customers engaged in a social distance environment
How can you keep your customers engaged in a social distancing environment? How do you keep customers at ease and connect with them when you are wearing a mask and gloves? One client recently asked just that. In response, I wrote,"Delivering Great Customer Service in a Mask." In this blog, you get tips and reminders about facial expressions and body language to help your employees maintain excellent customer experiences. Continue reading
April 2020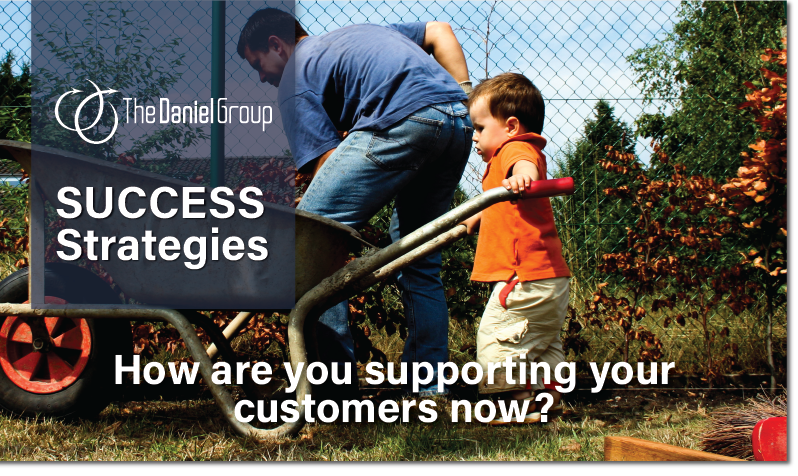 How are you supporting your customers now?
As we all continue to navigate through the Clovid-19 crisis, we hope that you, your families, and companies are safe and well. At The Daniel Group, we continue to strive to help our clients adapt to ever-changing business environments and supporting your customers.
First, I want to share with you my latest blog, Customer Feedback during the Crisis: More is Better. Here I provide what we are learning from our clients' customers during this pandemic. In a nutshell, you need your customers' feedback now more than ever and they are more than willing to talk. Continue reading
March 2020
Which way should you go with your Customer Experience Program?
We hope this edition of Customer Experience Success Strategies finds you, your family, and staff healthy. We are, too, adjusting to our new socially isolated reality, which will hopefully end very soon. Please see our Business Continuity Update on how we are operating during the Covid-19 crisis.
This edition focuses on ways to improve B2B Customer Experience in Sales. It is often said that the sales person gets the first sale but service and support get the future sales. I think this is true. Continue reading
Feb 2020
Do you have your customer headphones on?
In this edition of Success Strategies, we focus on the benefits of listening to your customers. I am defining the word "listening" quite broadly. It is not good enough to listen to the feedback passively; it is essential to act on what customers are saying. Our clients that are the best at both listening to and acting on feedback are the ones who have superior experiences for their customers. What are you missing? Continue reading
Dec 2019
What have your customers told you Santa they want from you this year?
It's the holiday season! Time to give gifts to show our family and friends how much they mean to us, but what about your customers? What are they expecting from you to remain loyal to your company?
From our knowledge library and other sources, I've pulled some blogs and articles to help you identify some presents to choose from for your loyal customers. Continue reading
Nov 2019
Want to build better relationships with your customers and your employees? The first step is to…..Thank them!
November reminds us to be thankful. In our recent blog, 5 Reasons to Make Thanksgiving a Habit, Doug Fowler, our COO, outlines the personal benefits of being grateful every day
Oct 2019
What are you afraid of?
What scares you about finding out what your customers really think?
Negative reviews?
What questions to ask, and how many?
How to ask them? By phone? Email? Weblink? Continue reading
Sept 2019
Ready to let go?
What do you need to let go of this fall in your perceptions about customer services?
Is it the belief that customer experience doesn't impact your company's bottom line?
Or is it viewing negative feedback as a nuisance instead of an opportunity?
What about those 8's? Do you think there isn't a way to get those customers to 9s or 10s? Continue reading
Aug 2019
Have you equipped your employees to succeed?
August brings an end to summer vacations and the return to school. It's the perfect time to think about how you are educating and preparing your employees for customer experience success.
Educators know that people are more open to new ideas and learning in a positive environment. In my experience, I've discovered that one thing that hinders employee engagement in training our employees is focusing on the negative. Continue reading

July 2019
Customer Experience is here to stay!
Has a manager, employee, or even the CFO ever asked, "when is the company going to stop gathering customer feedback?" Underlying this question is the assumption that once you find out what a customer wants at a certain point in time is all that is needed. But customer needs are always changing, so the need to stay up with these needs is ever present. The need to listen and respond, never stops. Continue reading
June 2019
Communication works for all those who work at it?
Summer is almost here. Many of you may be thinking about your vacation plans. Often we return to favorite vacation spots. Have you ever thought about why we go back again and again to the same places to rest and relax? Maybe it's because they treat us well, we know what to expect, they communicate with us effectively, and perhaps even going so far as to remind us to make our reservations before they are booked up.
What about your company and your customers? Continue reading
Trusted by B2B businesses
We work with manufacturers, service companies and value-added resellers to understand the customer's view at every part of the chain.