Want to Succeed in Customer Feedback?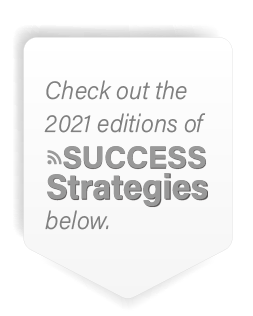 At The Daniel Group, you can access our extensive customer feedback data from our 30+ years of surveys and market research across multiple B2B industries. Learn from our insights to grow your Customer Experience program. Get our newsletter, Success Strategies, for our Customer Feedback insights in your inbox!
Please browse our 2021 editions below.
Happy Holidays from Our Families to Yours!
We know this year has been challenging for so many with devastating weather and the continuing pandemic. Now, more than ever, we are incredibly grateful for our partnerships with our clients, vendors and contacts. I am especially grateful to the entire Daniel Group team. Earlier this year, we reached the one million milestone of completed surveys! As we move into 2022, we are excited to continue improving and expanding how we help our clients gather, analyze, and act on customer feedback.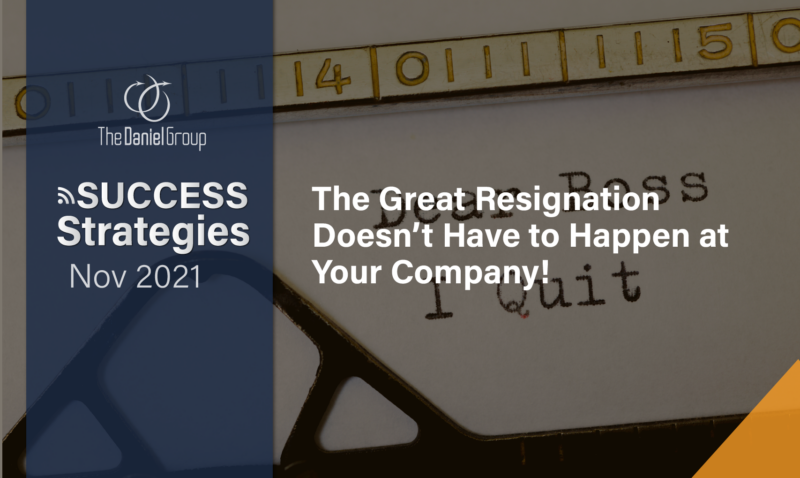 The Great Resignation doesn't have to happen at your company!
We've all heard about or experienced "The Great Resignation" with employees leaving en mass. Are you experiencing this at your company? Are you finding it challenging to hire? I recently found an article in Harvard Business Review, 5 Reasons Not to Quit Your Job (Yet), and that got me thinking about what other things employers could do to keep their employees. At The Daniel Group, one of our core services is Employee Feedback and helping our B2B clients improve employee engagement. So let's start with a refresher…
What's the best way to get feedback? Is it phone, web, email, or text? Well, unfortunately, there is no one correct answer. It depends on multiple factors, from the complexity of the transaction to your customers' preferences. Remember, for deep analysis, there is no substitute for talking to your customers one at a time. In my recent blog, "As Covid continues, CX Approaches to Gathering Feedback Need to Expand," I outline in detail which method works best depending on the situation.
Regardless of the best way to get feedback, it would help if you considered these things:
Excellent B2B Customer Feedback surveys must start with thinking about what you really want to find out from your customer
s; i.e., begin with the end in mind. Ultimately, a successful survey allows the customer to tell you how they really feel and think about you. It's so much more than numbers and scales. In this edition of Success Strategies, we will focus on helping you improve your CX program with practical tips, an introduction to our
CX Maturity Assessment,
some interesting CX articles, and an excerpt my recent blog,
What are the Best Practices for Customer Feedback Analytics Tools?
Yes, your customers will be pay up to 55% more for better Customer Experience
(Defaqto Research). Let's talk about how price fits into the whole Customer Experience equation. In my recent blog, "
Customer Experience and Price: Is Price Really That Important to Customers?
" the answer my surprise you. Customers want to be treated well first and foremost. I found a few other interesting facts about price and better customer experience:
Is you customer more likely to leave you because of price or poor customer experience?
They are 4 times more likely to leave you for a competitor over a bad experience than price (Bain and Company)
Customer Experience Consistency is the sum of small efforts repeated day in and day out. Name one fast-food restaurant that provides a consistent, superior customer experience. Chick-fil-A is the first one that comes to my mind. Without fail, regardless of where I am, and I travel often, I know that if I stop there, I will receive a smile and hear, "My pleasure." What would your customers say about what they expect from your organization? Hopefully, your survey data shows consistent positive comments. If not, you have some work to do.
Want your Customer Feedback scores to go up by 6 points? We've learned through our extensive research that this is just what happens when "Communication" is mentioned as something that went well! On the flipside, if "Communication" is mentioned as something that needs improvement, your score may take a 40 point dip. I recently interviewed Paul Start, Market Growth Development Manager, Thomas Built Buses. In the interview, Paul reminds us that "Communication has to be proactive. Anytime a customer reaches out, it is usually a "fail" on our part." Communication has to be proactive to be effective.
Are You Giving Customers the Experience They Desire? Welcome to Success Strategies.
Are you giving your customers the CX they desire from from you? We recently introduced a new four-part blog series:
Giving Your Customers What They Want. Throughout the series, we will explore the importance of the following topics:
It's time to Blend CX and Marketing! Are you ready to blend your CX and Marketing plans for 2021?
It is time to link the two for business success and happy customers! As you may know, CX continues to gain influence over price as a differentiator. Studies show that 86% of customers will pay more for better CX (
Smart Insights
). In my recent blog,
Why CX and Marketing Go Together—Now
, I outline the benefits of combining these efforts for your business.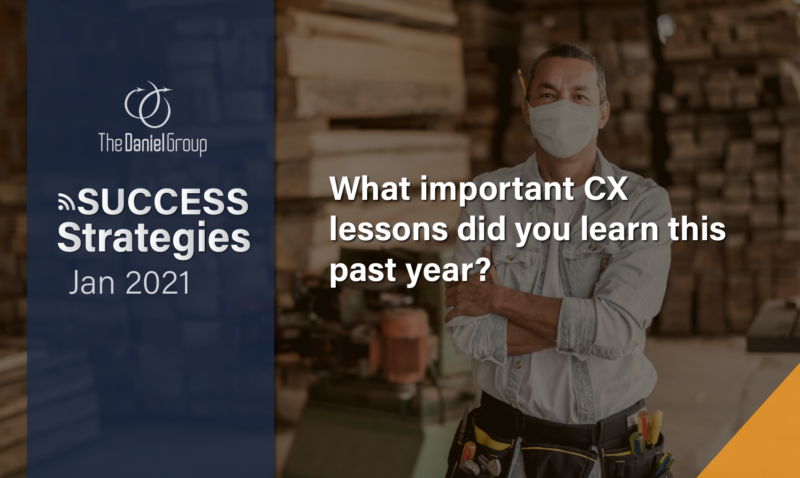 What important CX lessons did you learn in 2020 to keep your customers during a pandemic?
Everything changed at the end of March! Our team did not know what to expect. Many of our clients did not know, as well.
There were so many unknowns as the pandemic changed business as usual. We closed our offices on the 17th. Other than me, no one else has been coming to the office. (I have learned much about the unusual sounds made by an empty office!)
Trusted by B2B businesses
We work with manufacturers, service companies and value-added resellers to understand the customer's view at every part of the chain.