Take the guesswork out of knowing what your
B2B customers want you to improve.
ExperienceConnect, our customer feedback platform, empowers you to measure, manage, and improve your B2B customer feedback and your business. Most importantly, we help leading B2B companies obtain honest, effective feedback while experiences are still fresh in their customers' minds.
See ExperienceConnect in action Watch a Demo
Why choose ExperienceConnect for B2B Customer Feedback?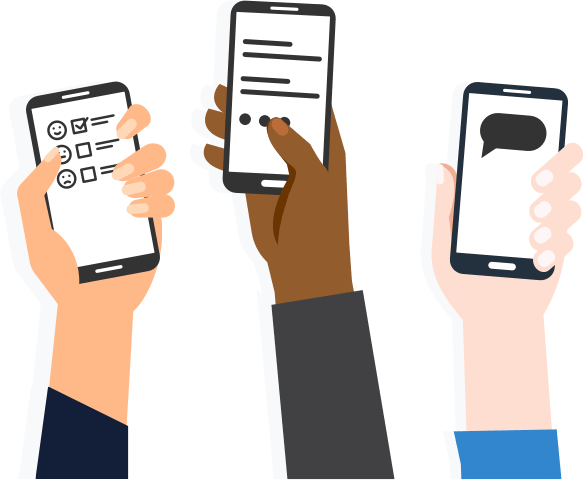 Accurate, real-time customer feedback
Concise, customer-friendly branded surveys
Mobile-friendly emails
Phone calls through our friendly in-house team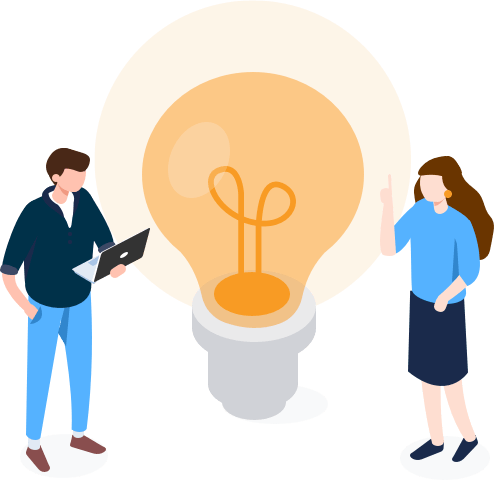 Respond to feedback quickly
Objective actionable insights into the right hands
In-depth reporting and analytics
Custom email alerts, follow-up workflows, CRM integration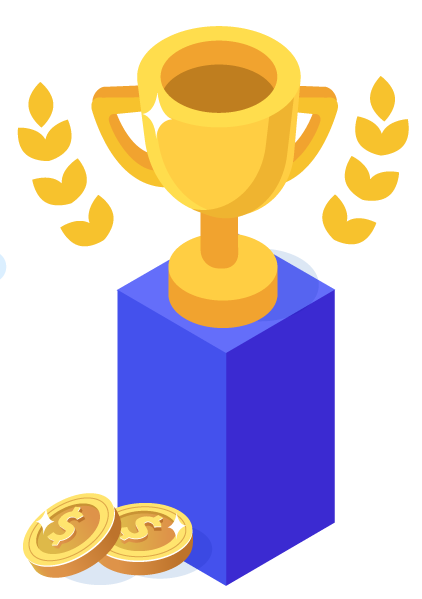 Stay relevant, ahead of your competition
Seamlessly integrate customer feedback into your business
Improve your products and services
Create loyal customer relationships that last
Versatile B2B Customer Experience Program Solutions
Your business has unique needs, so we think you should have a customized solution for customer feedback. With ExperienceConnect, you'll get to choose the type of surveys you complete. Use one or more of these formats in your customer satisfaction research: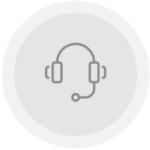 Phone Surveys
Our team will use approachable and professional language to help your customers feel at ease during phone surveys.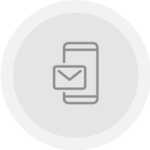 Email/Web-Based Surveys
We'll develop an engaging email or web-based survey that makes the feedback process convenient for your clients.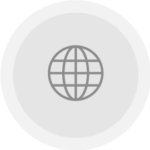 Hybrid Approach
With a hybrid approach, we gather feedback by phone, email, and web depending on your company's needs and your customers' preferences.
Let's work together to find out what keeps your customers engaged. For more information about our customer feedback process,
please contact us today
.
Getting Started?
Essential Tips for B2B Customer Feedback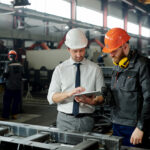 Customer feedback is invaluable for any business. It tells you whether you're delivering a great product, sales or support experience. It reveals why customers buy from you—and what would make them buy more even more. But when you're selling to B2B customers, creating a successful feedback program can be tough.
For one thing, you have fewer customers to survey, and your relationships with them are more personal and complex than in a B2C market. For another, your customers are higher value. You can't afford to annoy them with too-frequent feedback requests, or tedious box-ticking exercises.
Ready to improve your CX program? Read our Ebook:
Why B2B customer feedback programs fail (and how to make yours succeed)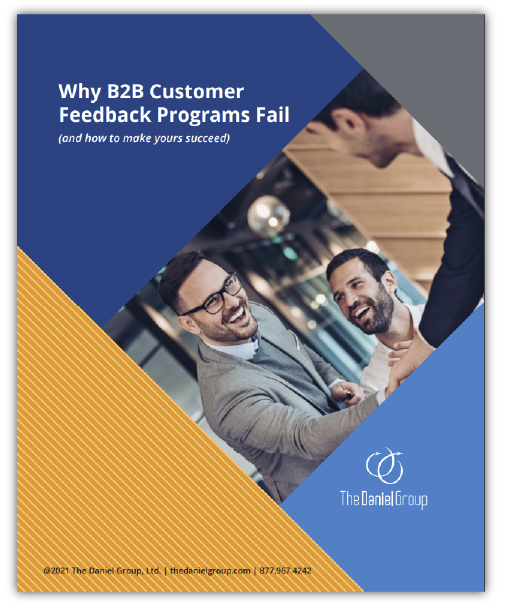 Selling a backhoe is nothing like selling a toothbrush.
And yet, most B2B and industrial businesses—whatever they sell—still try to use customer feedback strategies and tools designed for B2C businesses.
When you're selling toothbrushes, you can email a generic feedback survey to a customer sample that's millions strong. If only a very small proportion of them respond, that's fine—because your customers are so numerous.
Why Implement a Data-Powered Customer Feedback Program?
Research shows that a good customer experience gets results. According to the Harvard Business Review, customers who have positive past experiences with a business spend 140% more than customers who have had negative encounters.
By taking data-informed action to improve customer satisfaction, you'll also boost your profits. Count on our solutions to help you give your customers the best experience possible.
Get our Customer Feedback Newsletter: Success Strategies
At The Daniel Group, you can have access to our extensive customer feedback data from our 30+ years of surveys and market research across multiple B2B industries. You can learn from our insights each month to grow your Customer Experience program. See recent editions below.
Meet The Daniel Group Team
We are extremely proud of our team of over sixty Research Analysts who conduct customer surveys by phone, manage the routing of inbound leads, and analyze data. Meet the Management Team.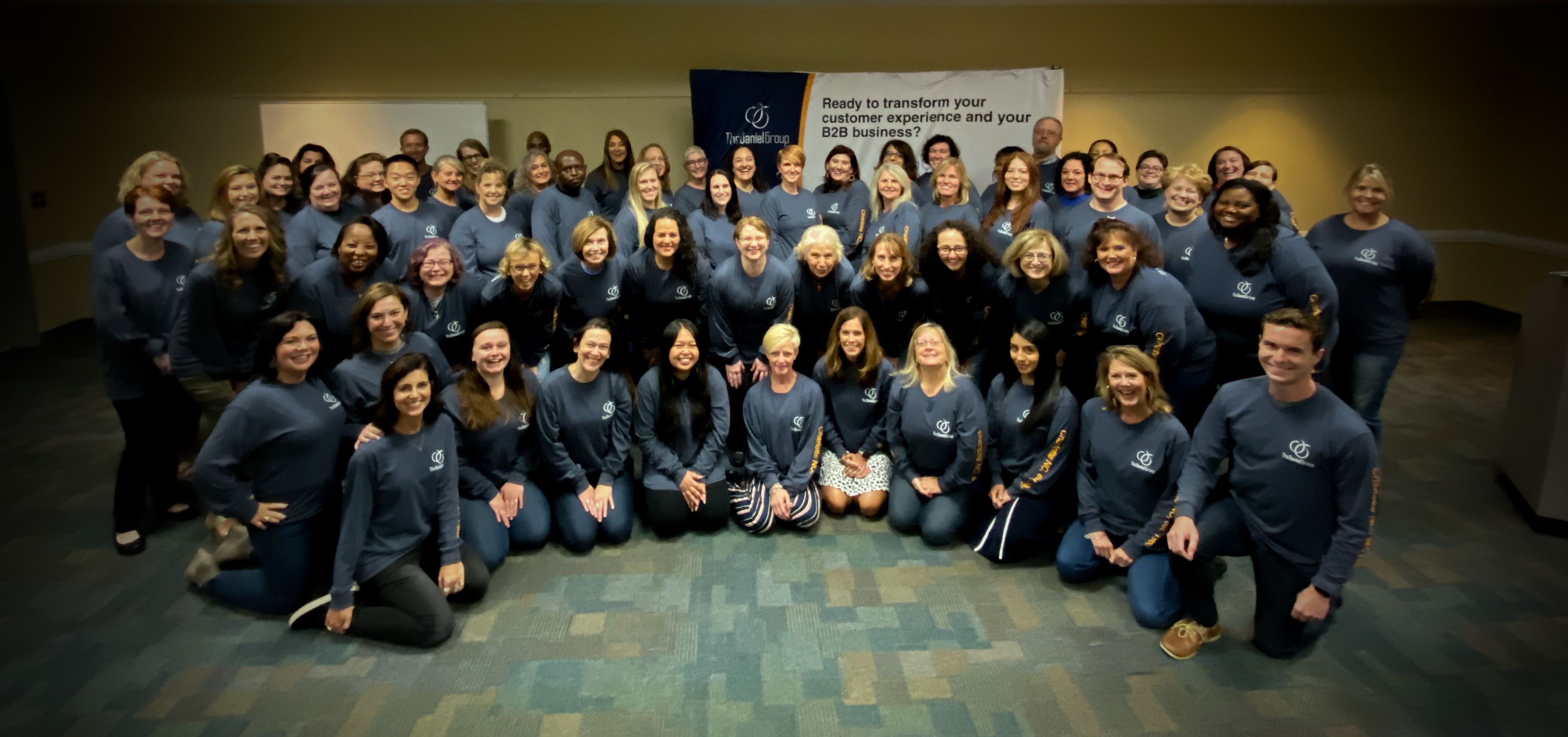 Learn How You Can Improve Your Customer Experience With Smart Insights
Let's work together to find the best B2B customer satisfaction solution for your business. Get in touch with us using our online contact form for more information about our services.
Experience the joy of having a single source of contact and real human partner.
Full set-up of your customized feedback program
Survey design and question selection
Dedicated analyst
Ongoing support
"The Daniel Group has led to a shift in company culture. If we put the focus on customer service experience, it will lead to profitability. It's well worth the investment."
MEASURE

Your B2B Customer Experience With Customer Satisfaction Research
Improving your customer experience begins with knowing what your customers want. As the first step of the ExperienceConnect process, we'll create a customized feedback program. Our team will determine the right customer sample, contact time and follow-up methods for your surveys.
Then, our analysts will perform the research for you. The data we collect will then go to the ExperienceConnect portal for you to view.
MANAGE

Your Customer Feedback Data
With the ExperienceConnect portal, you can review and manage your survey data with an easy-to-use interface.
The Feedback Inbox feature displays your surveys like an email inbox for intuitive use.
ExperienceConnect enables you to generate, download and share detailed analytics.
Through these features, you can analyze your results and communicate them to your team.
IMPROVE

Your B2B Customer Experience Satisfaction
Once you understand the trends in your survey data, you can take action to improve your customer experience.
Piping: Relaying feedback to team members who can take action
Presenting: Communicating your findings in an easy-to-understand manner
Flagging: Highlighting urgent issues for immediate resolution
Identifying: Pinpointing areas for improvement and following through
Showing: Demonstrating to your customers that their feedback matters
Trusted by B2B businesses
We work with manufacturers, service companies and value-added resellers to understand the customer's view at every part of the chain.