When the word "innovation" is mentioned we often think of the "big" innovations, such as the transistor, MRI, email and smartphones. However, beneath the headlines heralding these great breakthroughs lies the reality that innovation is happening all the time in every industry. Indeed, companies that have stayed successful over the years seem to place a great emphasis on innovation, even if the product they sell is rather pedestrian. Let's take the case of the lowly pallet.
The pallet is in most every manufacturing, distribution, and retail outlet. For those readers not familiar with what I am talking about, below is a picture of the pallet that was patented first in 1939.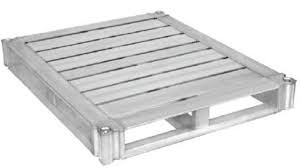 Nothing much changed about the lowly pallet until a few years ago when a company called CHEP decided to do some innovation. CHEP designed a pallet that was far more durable than the traditional pallet (see the example below):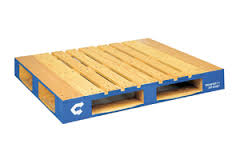 While CHEP's pallet was far more durable, unfortunately, it was about twice as expensive as existing pallets. This begat the second part of their innovation. Rather than selling their pallets to a manufacturing company or distributor, they rented them. The company needing pallets did not have to worry about keeping track of pallets they owned as this responsibility was CHEP's. They even introduced a bounty payment for every blue pallet a person found and returned.
Until I first heard the story on NPR I never thought much about pallets and certainly not as an innovation opportunity. However, they are and CHEP has disrupted the industry. This example also caused me to think about other innovations that have occurred, or are being contemplated, in a variety of industries. For example:
Amazon when it started selling books online. It has disrupted the traditional book and now, many other industries through its adroit use of technology and high-quality service.
Again, I have to mention Amazon and its AmazonFresh service, which is in three test markets. They want to deliver groceries of all types directly to your home. Should traditional supermarkets be worried? Too early to tell but with Amazon's balance sheet and intent to be successful this cannot be ignored.
Uber is another example of an innovator. Their innovation was using a smartphone app to match consumers needing a taxi ride with eligible drivers in their area, and a business model in which consumers pay less and drivers have no start-up costs and more flexibility versus the traditional taxi model. They are making inroads quickly in the global car service industry.
There are many others I could mention. However, innovation can and most likely will happen in any industry no matter how mundane. Joseph Schumpeter's notion that the "process of industrial mutation that incessantly revolutionizes the economic structure from within, incessantly destroying the old one, incessantly creating a new one" is valid. The example of the lowly pallet is a prime example of how Schumpeter's gale plays out in real life.
Lynn Daniel