B2B companies often have customer relationships large enough to warrant CEO-level involvement. Towering in size above other accounts like a mountain peak, these relationships often represent as much as 10%, 20%, or more of the firm's overall revenue.
In contrast, B2C companies' largest customers typically don't contribute more than a fraction of one percent of sales.
Consequently, B2B companies must manage their key customer relationships with an obsessive level of focus. The loss of just one of these accounts may be devastating; contract renewal is everything.
So, B2B companies are inherently customer-centric, right? It's necessary for survival, woven into the DNA of the firm.
Not quite. The level of attention B2B firms pay to a few customer relationships has the potential to create a blind spot around the need to systematically gather and act on information about all customer relationships.
Frequent contact with major customers gives management a false sense of having its finger on the pulse of its customers in general. In fact, the reality can be quite different: managers may not be looking at the whole picture.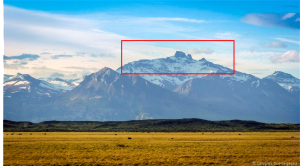 Remember the mountain peak at the beginning of this blog, representing major accounts? That's the part of the picture above, highlighted in the red box. Clearly, it's only one part of a bigger picture containing fields and foothills, i.e. midsize and smaller accounts, visible below the major account mountain peaks.
While the firm may be highly customer-centric in its servicing of major individual accounts, it may be delivering less than excellent experiences for midsize and smaller accounts. This practice can result in missed opportunities that can be grasped when looking at the whole picture. Here are just a few:
Profits. While key accounts may generate much of the firm's revenue, they may be significantly less profitable than smaller accounts. Large customers know they are "must win" accounts and they use this status to drive ever-deeper discounts at each renewal cycle. Paying more attention to the needs of smaller customers could drive attractive profit increases by reducing churn and generating more word-of-mouth referrals.
Customer-Centric Processes. When a company proactively gathers customer insights and feedback across the business on a regular basis, it can use this input to refine its internal processes to better fit customer needs. In the absence of customer input, the evolution of core processes gravitates towards meeting the needs of internal stakeholders and cost-reduction priorities. Large customers and complaining customers may successfully demand process exceptions or customized processes, but the majority of customers must live with processes that were not designed to make their experiences easier or more successful.
Employee Engagement. Employees who do not work on major accounts may feel somewhat underappreciated given the often significant profits they deliver to the firm. While the employees supporting major accounts receive senior management recognition for delivering wins: they are rock stars! Other employees labor in relative obscurity. B2B companies who proactively gather feedback across all customer segments can boost:

Morale, by sharing positive feedback and recognizing successes.
Performance, by helping employees understand what makes customers happy, and not just what causes them to escalate issues.
Strategy and Innovation IQ. Having the ability to gather, organize and understand information about all customers enables management to make data-driven strategy and innovation decisions. If there is no company capability to do this, the biggest customers and more forceful personalities, drive the company's investments in the future. And this direction may not be the best one for customers and shareholders.
With all these benefits of approaching customer knowledge more methodically, does this mean B2B executives should stop personally interacting directly with large customers and instead stay at their desks looking at customer feedback dashboards? Of course not! Key accounts rightly demand top management attention, and that shouldn't change. The answer is to do both: bolster your close connections with major accounts with processes to gather and organize customer insights and feedback across your organization. If you haven't done so yet, consider taking a step in this directly – you'll be glad you did.