Business and Technology Services Customer Feedback
When you're in the business and technology service industry, you're in the business of helping other businesses succeed. Your company might provide the software that allows a business to sell its products online, or you might offer the cloud-based infrastructure that keeps other companies ticking. Your business might offer advertising and marketing services, fulfill staffing needs or provide legal advice to other companies.
No matter what your area of expertise is, you're in a growing and vital industry. The total revenue produced by cloud service companies worldwide is expected to be $249.8 billion in 2020. With the anticipated growth comes an anticipated increase in competition. As new competitors enter the market, it's up to you to find ways to make your company stand out and to retain your customers and attract new ones.
Implementing or upgrading a customer experience (CX) program at your company is one way to stay ahead of the curve and to continue to best the competition.

Why Business and Technology Services Companies Should Care About CX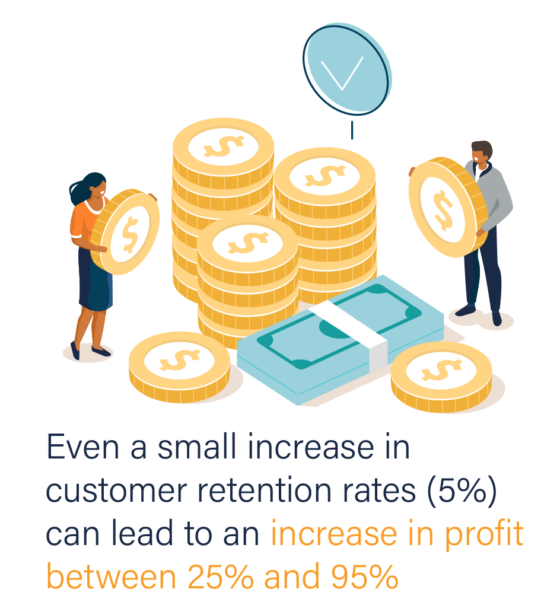 Seeing how your customers feel by conducting interviews and surveys and by gathering feedback is one way to improve your customer retention rate. A customer experience program can give you the big picture, showing you areas where multiple customers might have an issue or concern, such as slow response times or ineffective customer service. It can also highlight areas where your company is performing well, allowing you to zero in on those areas.
When you boost your customer retention rate or increase overall customer satisfaction and loyalty, you're will increase your company's revenues. Companies with the highest levels of customer satisfaction typically see revenue growth that is 2.5 times faster than those with lower satisfaction levels. Even a small increase in customer retention rates (5%) can lead to an increase in profit between 25 and 95%.
Providing an excellent customer experience to your clients will increase your company's referral rate. If your customers are happy with what you're offering and the way you provide it, they'll be more likely to tell their associates and colleagues. Many B2B decision-makers begin the process of finding new vendors by gathering recommendations and referrals from others.
The better your customers' satisfaction levels, the more likely they are to recommend you to others of their own initiative.
Finally, a customer experience program can lead to an increase in overall sales for your company. The reason for this is simple: Customers prefer to work with businesses that take their needs and concerns seriously. Learning what your company's weak points are and making every effort to strengthen them strengthens your customers' loyalty.
What Can The Daniel Group Offer Your Company?
The Daniel Group can work with your company to put small changes into place that will translate to considerable profitable growth. We work with companies in the business and tech services industry, helping them measure their customer experiences, manage feedback and take steps to improve customer satisfaction. At The Daniel Group, we work solely with B2B companies, and we have a full understanding of the particular complexities faced by businesses that cater to other businesses, rather than end-consumers.
Whether you currently have a business and technology services customer experience program in place that isn't working for you or are looking to build one from the ground up, we're here for you. You can rely on our extensive knowledge, in-depth survey-taking, actionable insights and commitment to best practices to get an effective feedback program up and running.
Extensive Knowledge of the Industry
The Daniel Group has been focused on helping B2B companies improve their customer experience for the past 30 years. We work with clients who provide business and technology services, manufacturers and value-added distributors. Our clients provide services to sectors ranging from agriculture to energy and from transportation to construction. Since we only work with business-to-business clients, we are skilled at recognizing the particular needs of business customers and effectively interact with customers in a business setting.
Multiple, Custom Feedback Channels
An effective customer experience program must be tailored to the needs of your business. We offer phone surveys, emailed surveys and web-link surveys to our clients. If you're not sure which one is going to be the most effective, we will help you choose the most appropriate format. For some businesses, phone surveys will be the most effective options. Others might find that email delivers the feedback they need, and still others will benefit from a combination of formats, such as an in-depth phone interview followed up with a short email survey or a short email survey followed by a more in-depth phone conversation.
Information You Can Use
Collecting feedback from your customers is only part of the process of developing a successful customer experience program. You also need to know what to do with that information to improve your customers' experiences, making them more likely to keep coming back and increase the rate of referrals and sales. The Daniel Group doesn't simply hand over your survey results and say, "Done!" We also take the time to provide you with actionable insights, so you can decide what to do next based on your results.
We seek to discover the "why" behind the customer's experience. We ask respondents to provide a numerical rating on a scale of 1 to 10. Next, we go deeper. We'll ask what they think went well during their most recent transaction. Were they happy with response time? Do they feel that your company appropriately addressed all of their concerns?
We'll also ask them if there were areas that could be improved. For example, did they get a sense that you didn't really understand what they needed? Did they feel that the representative from your company didn't behave professionally?
Your customer's comments and responses are recorded and tagged with the appropriate category label, such as response time, knowledge, professionalism and ease-of-contact. We'll then work with you to help you improve your customer experience based on the feedback, helping you build customer loyalty over time.
Is It Time to Try ExperienceConnect?
What are your company's goals when it comes to customer experience? If you aim to make CX a defining feature of your business, then you want to use the best tools to help you reach that goal. ExperienceConnect is our feedback-as-a-service platform that lets you track your progress with customer experience. You can use the platform to access data from phone, email or web-based surveys, track KPIs, and respond to customer feedback. The platform is cloud-based and secure and is capable of integrating with your existing CRM or being used on its own.
It might be time to give ExperienceConnect a try if you fall into any of the following categories:
You don't know what your customers think:If you haven't yet started collecting customer feedback, there's no time to do so like the present. The business and technology services industry is a fast-growing one, and new companies are cropping up all the time. If you don't take the pulse of your customers, you might find that you lose them to new competitors or to businesses that offer something similar to yours but in a better package.
You aren't satisfied with your current feedback program:You might already have a customer feedback program in place, but it might not be providing the results you hoped for. Perhaps it was designed in-house or is the part-time project of one of your team members, and they haven't had the time to give it the attention it needs.
You want to be known as the company that offers the best customer service:Take a look at your business' goals. Do you want to be the service provider known for offering the best customer service in the industry? Then you need to start tracking your customers' satisfaction levels and evaluating their feedback. With ExperienceConnect, you get access to data that lets you track your goal progress and see how you're doing when it comes to reaching your objectives.

Start Working With The Daniel Group Today
Companies across the industrial equipment industry have partnered with The Daniel Group to gain a better understanding of what their customers are thinking and feeling every step of the way.
Learn more about how our market expertise, professionalism, and responsiveness can help you put a customer experience program in place that helps your business grow and thrive.
If you're ready to implement a customer feedback program or haven't had the results you expected from your existing program, contact us today.
Let us help you measure, manage, and improve your customer experience!
Complete the form below to begin a conversation with us.
Trusted by B2B businesses
We work with manufacturers, service companies and value-added resellers to understand the customer's view at every part of the chain.